The following are the Terms and Conditions for participation to the "DORCELCASH" affiliate program.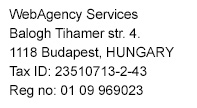 By checking the checkbox "I agree the terms and conditions" on the signup form, & submitting your information, you acknowledge that you are at least 18 years old and that you have read and accept all of the terms and conditions in this agreement.
1. Participation
1.1 You must be at least 18 years old or the legal age in your jurisdiction to participate in the Program.
1.2 As our French accounting is very strict and in order to be paid, you must have a company identification number (in France it's called a SIRET NUMBER). For French webmasters, you must be, at least, auto-entrepreneur.
1.3 In order to participate, you must register by submitting an application with correct informations via http://www.dorcelcash.com. We may choose to decline your application if we find any of the informations and/or your website unsuitable for any reason.
1.4 By signing up to the program you agree that you accept to receive notices about the program as long as you are part of the program.
1.5 The Program's administration reserves the right to refuse your participation in the program for any reason.
2. Responsibilities & forms of promotion
2.1 You may use any form of promotion you choose, that does not breach the terms of this agreement.
2.2 All surfers sent to the Program's site(s) must be in a full size window with toolbars, location, scroll bars, etc... It must be a regular window unaltered.
2.3 Our sites may not be opened or loaded in a FRAME. If your site uses frames, all links to our sites must use the TARGET="_top"
2.4 Do not use illegal/false advertising.
2.5 You are responsible to keep your informations on-file accurate for proper notifications or paiements.
2.6 Do not alter the linkcodes.
2.7 Do not attempt to alter or cheat the Program.
2.8 The webmaster must respect DORCEL's brand good reputations.
2.9 You must ensure that you are not performing any actions or doing anything that may violate this agreement or that is grounds for termination as described in section 6. Termination.
3. ILLEGAL ADVERTISING
3.1 You may not advertise and/or send traffic from any site containing child pornography or material that is not compliant to 18 USC 2257. We maintain a zero tolerance policy towards anything related to child pornography and reserve the right to cooperate with law enforcement authorities in any child pornography investigations.
3.2 You may not send traffic from websites containing materials which constitute an infringement, misappropriation or violation of any person's intellectual property rights such as copyrights, trademark rights, rights of publicity, patent rights, personal property rights, privacy rights or other rights.
3.3 False advertising such as statements, photos, graphics, videos promising features and content that are not available by the Program's website to members is not permitted.
3.4 Advertising our products and sites to minors is not tolerated.
3.5 The Program does not accept sites and links from sites that endorse actual, implied or simulated: bestiality, obscene, rape, torture, child porn as well as warez, mp3 & password selling or trading.
3.6 You are not permitted to bid on, purchase or otherwise use/register the SITE NAMES (dorcel, dorcelclub, dorcelvision, dorcelvr, dorceltv etc etc...) or use the words "Official", "Officially", "Official Site" or similar language in connection with the Site Names as keywords (sometimes referred to as "AdWords") on Internet search engines, such as google.com, ask.com, yahoo.com, msn.com, bing.com, etc...
3.7 You will not register or attempt to register any domain name (including third-level domain names or subdomains) or URL that is identical or confusingly similar to our trademark or service. Additionally, using DORCEL's trademarks (or confusingly similar marks or domain names) violates DORCEL's intellectual property rights and may violate French laws and international laws prohibiting trademark infringement and cybersquatting or "typosquatting". For clarification, "confusingly similar" means URLs or domain names that incorporate portions of Dorcel marks, contain common misspellings of Dorcel marks, or otherwise could mislead a consumer into believing that the website is a Dorcel website.
3.8 Counterfeiting, imitating any websites of the DORCEL brand. We don't work with tube, it's forbidden to make its own trailer from our video files, it's forbidden to host trailers too. The only video you can use are hosted by DORCEL with the "Video embed" tool.
3.9 You will not be paid for sign-ups received via methods deemed as "Illegal Advertising" and sending such traffic through such methods is grounds for immediate termination. DORCEL reserves the right to modify the methods it considers as "Illegal advertising" at any time.
3.10 For all affiliates and especially emailers, it is your responsibility to comply with the regulations about data protection rights.
4. COMMISSIONS
Your duty in order to receive a commision from the Program is to direct visitors via a webpage to the Program's authorized websites. A commission is paid on a revenue share basis when a visitor views your webpage in his Internet browser, clicks on the authorized linking code issued to you by the Program, is redirected to the Program's authorized websites, enters his/her credit card information, is approved and the Program receives the fee. The Program reserves to modify the authorized linking codes at anytime, but it will however notify you in advanced of such changes in order to allow enough time to comply.
4.1 The Program pays you 50/50 share for every trial or full sign-up, generated by traffic sent via your authorized linking code.
4.2 You agree if you are in violation of this agreement, all commissions shall be forfeited. No commission shall be paid for sign-ups deemed as fraudulent, at the sole and exclusive discretion of the Program's administration.
4.3 No sale shall occur when the visitor visit the website without going through an authorized linking code issued by the Program.
4.4 Commissions are not credited for sign-ups or webmaster referral generated by you or someone in your organization.
4.5 The above rates are subject to change and you will be informed as stated in the "Modifications" section of this agreement.
5. PAYOUTS
5.1 Payouts are calculated based on commissions received during a 1 month period, it's starting the 1st of the month and ending the 30 or 31th of the month. Commissions are paid 3 weeks after the end of each period.
5.2 Commissions for a period that do not meet our minimum of €150.00 or your set minimum payout will roll-over and be credited toward the next period until such minimum is met.
5.3 If there is a discrepancy with any of your payouts, you MUST inform the Program within sixty (60) days or you are said to have waived the right to challenge the payout calculation.
6. TERMINATION
The Program reserves the right to terminate you based on but not limited to the following:
6.1 The sign-ups you have sent to the Program have excessive refunds and/or chargebacks.
6.2 Sending sign-ups deemed as fraudulent by the Program or performing any action that is deemed as an attempt to cheat the Program.
6.3 Altering the authorized linking code provided by the Program by electronic, mechanical or automated means or other technologies, currently available or which may become available in the future. Causing the modification or substitution of the linking code on URLs belonging to or identified with accounts other than your own.
6.4 Publishing, transferring, reassigning, disclosing, distributing, leasing, renting or selling your account.
6.5 Signing up through your own account by yourself, an associate or a person directly instructed or related to you.
6.6 Breaching any of the terms set forth in this agreement.
6.7 Your account and/or website is unsuitable for any reason.
6.8 Illegal advertising as stated in section 3. Illegal Advertising
6.9 Providing false or incomplete information during the Program's registration process such as a false address or fraudulent banking information.
6.10 If we get notified by one of our billing processors that they request your account to be terminated due to violation of their Terms of Service or due to sales deemed as fraudulent by the particular processor.
Either you or we may terminate this agreement at any time, with or without cause, by giving the other party notice of termination. To terminate your account contact support. Notice by e-mail, to your e-mail address in our records, is considered sufficient notice for us to terminate this agreement. If this agreement is terminated because you have violated the terms of this agreement you are not eligible to receive any commission payments, even for commissions earned prior to the date of termination. If this agreement is terminated for any other reason, you are eligible to be paid for the commission on sales occurring up to the date of termination of this agreement. We reserve the right to withhold your final payment for 60 days to ensure that the correct amount is paid and none of the sign-ups were fraudulent. You must meet the minimum payout of €150 in order to have a payment issued to you in any circumstance. We reserve the right to cancel the Program at anytime.
7. AVAILABILITY
The Program will not be held liable for any loss due to server downtime, network downtime, packet loss, net traffic problems, acts of God, acts of war, riot, fire, flood, or other disaster, acts of government, strike, lock-out, communication line or power failures, inoperability or destruction of the Site or its components. The Program shall do everything in its power to maintain the highest standard of availability of its system.
8. COPYRIGHT
8.1 The Program grants a limited nonexclusive, nontransferable and revocable license to use the Program and the websites/products trademark names, service marks, logos, and to access, download and use promotional banner hypertext links, video, sound, photo content and any other form of intellectual property provided by the Program, on your website(s) for the exclusive purpose of advertising, marketing or promoting ONLY the websites and products of the Program; however, the license herein granted shall automatically and immediately cease upon the termination or breach of any term in this agreement.
8.2 You may not copy, reproduce, alter, modify, change, broadcast, distribute, transmit, disseminate, sell or offer for sale the materials, in any manner, anywhere in the world, without the express written consent of the Program.
8.3 You are not allowed to remove, obstruct or make any change to the watermarks on the promotional materials, photographs, screenshots and videos.
9. CONFIDENTIALITY
Any modifications to the terms and provisions of this agreement made specifically for you or your website and not generally available to other webmasters, shall be deemed as confidential. You agree not to disclose any confidential information and that such confidential information shall remain secret and shall not be utilized, directly or indirectly, by you for your own business purposes or for any other purpose, except to the extent that any such information is generally known or available to the public or if disclosure is required by law or legal process.
10. RELATIONSHIP OF PARTIES
You and the Program are independent contractors, and nothing in this agreement will create any partnership, joint venture, agency, franchise, sales representative, or employment relationship between the parties. You have no authority to make or accept any offers or representations on our behalf. You will not make any statement, whether on your site(s) or otherwise, that reasonably would contradict anything in this Section. You are not an agent of the Program and the Program expressly disclaims responsibility for any conduct by you in violation of the terms of this agreement.
11. LIMITATION OF LIABILITY
We will not be liable for indirect, special, or consequential damages, or any loss of revenue, profits, or data, arising in connection with this agreement or the Program, even if we have been advised of the possibility of such damages. Further, our aggregate liability arising with respect to this agreement and the Program will not exceed the total commissions paid or payable to you under this agreement.